Are You Getting Your 'Daily Dose'?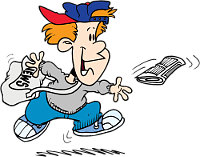 Hey, I know it's tough staying off the booze and on the straight and narrow!
It's hard to keep motivated when the temptation to drink alcohol is all around us.
And it's even trickier if you just can't work out what keeps pushing you to overdo it, and why it's so darn difficult to cut down or give up, even when you've got a whole bunch of very good reasons for wanting to do so.
⇒ Click HERE To Get Our FREE Newsletter! ⇐
---
Get Hooked On This Instead!
So why not carry on getting your 'daily dose', only in another less liquid, infinitely more substantial and nourishing form?
Introducing The 'Daily Dose' Newsletter
Treat yourself to a powerful shot of 'alcohol awareness' flavoured information, inspiration, fun and goodness every morning. Start your day the Dodo way!
Just click HERE or any image on this page to sign up for your regular serving of mirth and motivation.
Each message has a central point to make, and there are seven themes which rotate on a weekly basis:
1) Double Vision: a funny, ironic or thought-provoking image
2) Off Yer Face Facts: eye-opening information about alcohol and drinking
3) Slavering Stimuli: inspirational quotes about success in beating booze and life in general
4) Drinking Drivel: funny or profound things other people have said about dabbling in the demon drink
5) Booze In The News: any worthwhile or indeed worrying stories found in the press will be included and commented here
6) Dodorium Tremens: featuring random stimulating snippets from the Drunken Dodo website and 7 Days To Sober programme
7) Wasted On The Web: there's a huge amount of drinking-related stuff out there; I'm going to share some of it with you here
⇒ Click HERE To Get Our FREE Newsletter! ⇐
I write a personal commentary to go with each alcohol awareness topic, so you have a quick read (only a minute or so) to get you thinking, agreeing, disagreeing or even taking positive action – who knows!
---
Alcohol Awareness: Knowledge Is Power
One of the key points I try to hammer home here on Drunken Dodo, in the battle against alcohol – and it is a battle – is that knowledge is power.
The more you know about your enemy, the better equipped you are to fight and defeat him. It's a classic principle of war, and I make no excuses for repeating it here.
As you read The Daily Dose, over time you will become extremely well-informed, both about the evil and infinitely subtle ways in which alcohol seeks to destroy us, and also in some of the poweful techniques we can use to get back in control of the situation.
For that is the other side of the coin here. On Drunken Dodo, we first of all study and analyse the enemy… and then we move in for the kill!
Know Thy Self, Know Thy Enemy…
…a thousand battles, a thousand victories.
We slowly but surely get to understand our adversary deeply, able to spot his sly ploys and mean tricks a mile off. Then we plot his downfall, developing our own personal armoury, our alcohol awareness tool bag, to finish him off for good.
But we can only do this by knowing not only our enemy, but ourselves too: how we react in certain situations; when our unwanted behaviour is triggered; what methods we will be able to use successfully and what won't work for us.
Little by little, drip by drip, your Daily Dose Newsletter will arm you with the weapons you need to stay in control or to beat this thing outright.
If this sounds good to you, then it's time to sign up right now for our free informative, inspirational and often amusing e-mail messages below – I look forward to 'serving' you, cheers!
⇒ Click HERE To Get Our FREE Newsletter! ⇐
---
Comments: To comment on this or any page or post on Drunken Dodo, p

lease visit our friendly Facebook Page and get involved. We'd love to hear from you!
---
© Copyright 2015 Drunken Dodo, All Rights Reserved. Contact us