The Daily Dose: No.26
~
Booze In The News
 ~
Welcome to today's alcohol-free offering of information, inspiration and fun to keep you motivated and moving in the right direction 🙂
Drunk As A Romanian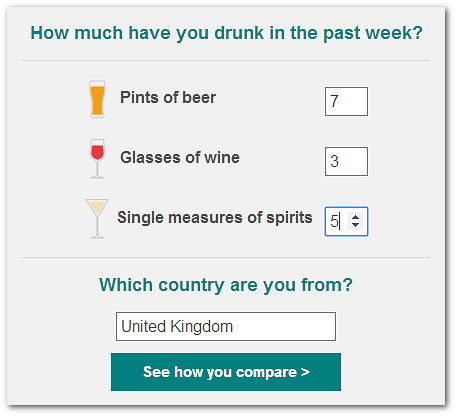 I was browsing the BBC web site and stumbled across an article from nearly a year ago now. It was saying that in December many people drink more than usual over the 'festive season'.
It also offered us the chance to compare our drinking with the world's biggest imbibers. The article was entitled 'Booze calculator: What's your drinking nationality?'
I thought I'd give it a go.
For the beer I chose roughly the amount I might have drunk in front of the telly if I was on my own, or wandering the streets if there were people at home.
For the wine, well, I was capable of downing a bottle fairly easily if I mixed it with coke.
I didn't often do spirits, but if I was offered or tempted… well, you know how it goes.
The thing is, of course, that would have been a day for me, not a week, and a fairly calm day at that…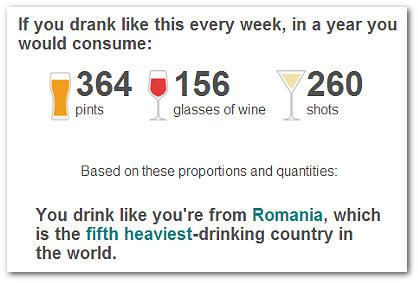 Turns out that if I drank like that constantly I'd be close to an average Romanian I suppose, again based on weekly consumption that is.
Romanians, they say, are the fifth heaviest drinkers in the world.
What the hell was a little Scottish-English boy from a respectable teetotaller family doing drinking like a Romanian?
Well, I have nothing against Romanians and don't even have any preconceptions as to how they drink, although eastern Europeans do have a reputation for indulging heavily.
But still, it makes you think. Even knocks you back a bit. How easy it was to sink way down to the lowest of lows. While people all around me are dying of cancer it seems, I've somehow managed to extract myself from that mess. Not a moment too soon.
Not all of these messages can be light-hearted or gentle but I hope that through the fact that I've succeeded in getting out, and am here to help you do the same, you'll take something positive away from this.
Drink like a champion athlete, not like a Romanian, and your body will thank you for years to come!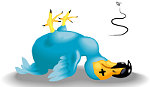 P.S. To get your FREE 'Daily Dose' delivered to your inbox effortlessly every day, sign up for the newsletter just below and never miss a trick!

---
Daily Dose Newsletter
To receive our inspirational FREE messages by e-mail just click the button below!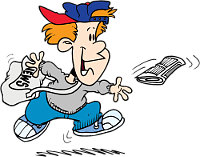 ⇒ Click HERE To Get Our FREE Newsletter! ⇐
---

Comments: To comment on this or any post or page on Drunken Dodo, please visit (& 'Like' 🙂 our friendly Facebook Page and get involved. We'd love to hear from you!
---
© Copyright 2015 Drunken Dodo, All Rights Reserved. Contact us