The Daily Dose: No.25
~
Drinking Drivel
 ~
Welcome to today's alcohol-free offering of information, inspiration and fun to keep you motivated and moving in the right direction 🙂
Sink Or Swim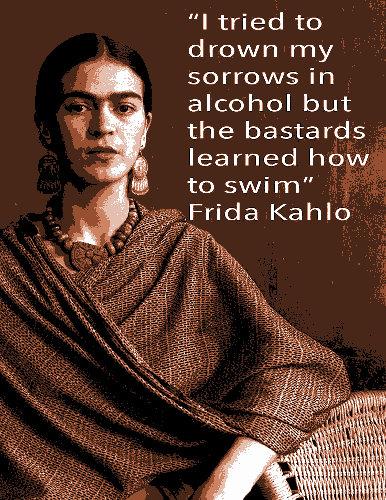 I tried to drown my sorrows in alcohol but the bastards learned how to swim.

     ~ Frida Kahlo
Which is a perfect example of a drinker's gallows humour.
She's also supposed to have said: "I don't paint dreams or nightmares, I paint my own reality." She was a dark genius that one.
Also: "I hope the exit is joyful and I hope never to return." and "I paint flowers so they will not die."
And before you kill yourself, here's one on a lighter note: "I think that little by little I'll be able to solve my problems and survive." Relatively speaking.
I often ask myself if all geniuses have to be tortured souls. I used to harbour a kind of twisted romantic notion that I was simply following in the footsteps of countless misunderstood artists and poets as I spewed forth my words and pictures downing countless bottles and cans of liquid inspiration all the while. And the bastards kept swimming…
Now I see things differently but it's true that I had a certain creative something in the old days which I sometimes feel a twinge of nostalgia for.
My aim isn't to forget that, but to reach a point where I can (almost) wryly smile and get on with the rest of my life. Put it down to life's rich tapestry. And discover other, much healthier ways to be infinitely creative and positive.
There are. OK, so Kahlo said "I want to be inside your darkest everything." And that's rather beautiful actually. But she also said, and I totally agree with this:
Nothing is worth more than laughter. It is strength to laugh and to abandon oneself, to be light. Tragedy is the most ridiculous thing.
Way to go, Frida.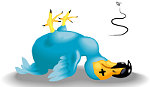 P.S. To get your FREE 'Daily Dose' delivered to your inbox effortlessly every day, sign up for the newsletter just below and never miss a trick!

---
Daily Dose Newsletter
To receive our inspirational FREE messages by e-mail just click the button below!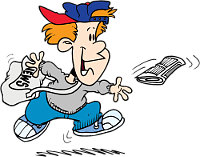 ⇒ Click HERE To Get Our FREE Newsletter! ⇐
---

Comments: To comment on this or any post or page on Drunken Dodo, please visit (& 'Like' 🙂 our friendly Facebook Page and get involved. We'd love to hear from you!
---
© Copyright 2015 Drunken Dodo, All Rights Reserved. Contact us