Join The Party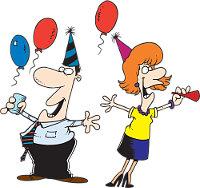 Great news for people who love to communicate and chat! We now have a social media presence on the following popular sites:
❤ Facebook
❤ Twitter
❤ Google+
That should be plenty for the Drunken Dodo crowd to be getting along with! Whatever your favourite platform, I'll be posting cool alcohol-related content, both serious and light-hearted, on a regular basis.
Get Involved
It would be great if you popped over to any of the above communities and said 'Hi' or even 'Hic'! I'll comment right backatcha, promise ?
These cosy social media web corners are intended to be places where anyone can talk about anything, such as:
♥ problems with alcohol
♠ worries about drinking too much
♦ challenges to giving up
♣ effects drinking has on families
♥ sharing success stories
You will always be guaranteed a warm welcome and a sensitive, compassionate ear. I look forward to seeing you out there on the web somewhere, sometime soon ?
Facebook   Twitter   Google+   Pinterest
---
Private '7 Days To Sober' Group
In addition to the Drunken Dodo presence on all the social media platforms mentioned above, there is a secret and highly exclusive Facebook Group, especially for members of my 7 Days To Sober programme.
You are given access as soon as you join us as an official participant. This is a place you can talk about the modules, your progress, your challenges and breakthroughs, and share whatever you like with others who understand exactly where you are coming from.
If you would like to discover the life-changing 7 Days To Sober programme, just click HERE and away you go!

⇒ Click HERE To Discover '7 Days To Sober'! ⇐
---
Daily Dose Newsletter
To receive our inspirational FREE messages by e-mail just click the button below!
⇒ Click HERE To Get Our FREE Newsletter! ⇐
---
Comments: To comment on this or any page or post on Drunken Dodo, p

lease visit our friendly Facebook Page and get involved. We'd love to hear from you!
---
© Copyright 2015 Drunken Dodo, All Rights Reserved. Contact us